Grid Coupling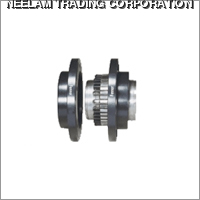 Grid Coupling
Price And Quantity
Product Specifications
Stainless Steel

Industrial
Product Description
Grid coupling is a type of mechanical coupling used to connect two rotating shafts in order to transmit torque from one shaft to the other. It is primarily used in industrial applications, where it is critical to maintain precise alignment between the two shafts, as well as provide high torque transmission capacity, and accommodate any misalignment or shock loads that may occur during operation.

The Grid Coupling is made of high-quality stainless steel, which makes it strong, durable, and resistant to corrosion. The coupling consists of two hubs with teeth that mesh with a grid made of spring steel. This grid absorbs shock loads and compensates for misalignment, allowing the shafts to rotate smoothly without any excessive wear or damage.

One of the key features of the Grid Coupling is its easy installation and replacement, which saves time and effort during maintenance and repair. Additionally, its rugged design and dimensional accuracy make it a reliable and long-lasting solution for industrial applications.

As a leading manufacturer, supplier, and exporter of Grid Coupling, we offer a range of specifications to meet the diverse needs of our clients. Our couplings are engineered using advanced machinery and premium quality raw materials to ensure high performance, reliability, and durability. With our expertise and knowledge in this domain, we are committed to delivering the highest quality products and services to our customers.


FAQ of Grid Coupling:

Q: What is a Grid Coupling?
A: A Grid Coupling is a type of mechanical coupling used to connect two rotating shafts in industrial applications. It consists of two hubs, which are attached to each shaft, and a flexible grid or spring element that connects the hubs.

Q: What materials are Grid Couplings made of?
A: Grid Couplings are typically made of durable and corrosion-resistant materials such as stainless steel, cast iron, and aluminum.

Q: What color are Grid Couplings?
A: Grid Couplings are typically silver in color due to the use of stainless steel in their construction.

Q: What are the advantages of using Grid Couplings?
A: Grid Couplings offer several advantages over other types of couplings, including high torque capacity, excellent vibration damping, and easy installation and maintenance.

Q: What applications are Grid Couplings used for?
A: Grid Couplings are used in a wide range of industrial applications, including power generation, steel production, chemical processing, and more.

Q: Can Grid Couplings be customized to fit specific applications?
A: Yes, Grid Couplings can be customized to fit specific applications based on factors such as torque requirements, shaft size, and environmental conditions.

Q: How do I select the right Grid Coupling for my application?
A: Selecting the right Grid Coupling for your application involves considering factors such as torque capacity, misalignment compensation, and maintenance requirements. It is best to consult with a knowledgeable supplier or engineer to ensure you choose the right coupling for your specific needs.